Wheretheweatheris.com is a site for you to quickly and easy find the perfect weather conditions matching your preferences.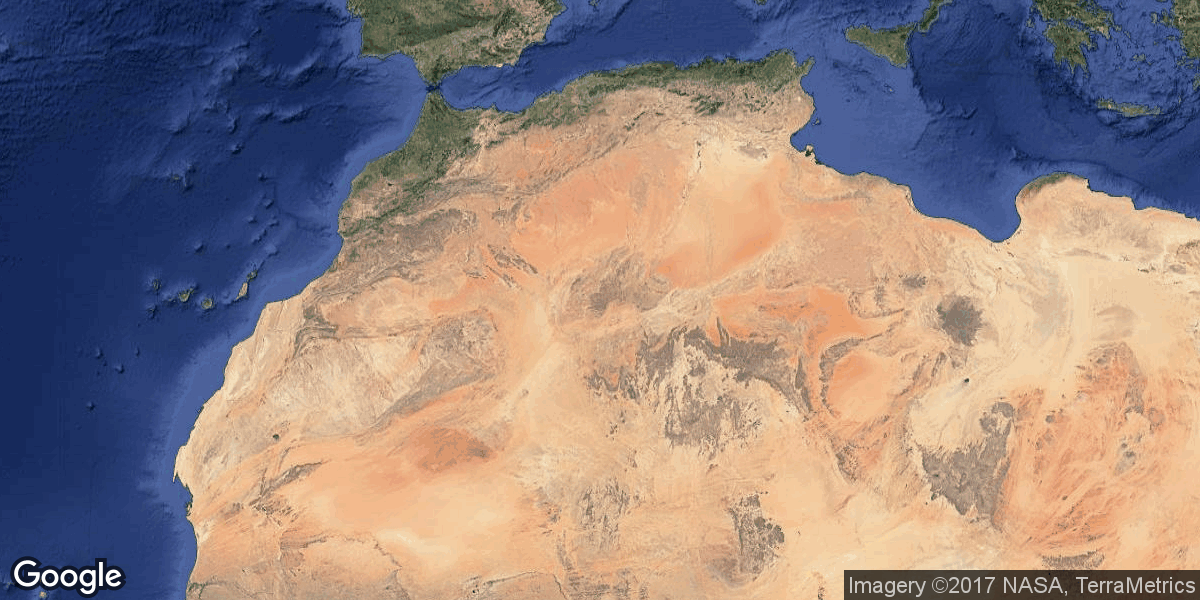 Todays weather condition in Algeria
Facts about Algeria. The total area of the country is 2381740.0 square kilometers. And the current population is 34586184. The capital of Algeria is Algiers. Algeria is resided in AF. Current currency of the country is DZD. Spoken languages: Arabic (العربية).
List of all the tempreatures in this country
'
'Aïn Arnat -

38°C

'Aïn Deheb -

37°C

'Aïn el Berd -

38°C

'Aïn el Turk -

33°C

'Aïn Temouchent -

36°C
A
Aflou -

36°C

Aïn Beïda -

38°C

Aïn el Bya -

31°C

Aïn Fakroun -

39°C

Aïn Kercha -

39°C

Aïn Oussera -

38°C

Aïn Touta -

36°C

Akbou -

43°C

Algiers -

29°C

Amizour -

39°C

Ammi Moussa -

39°C

Azazga -

39°C
B
Barika -

39°C

Batna City -

37°C

Béchar -

37°C

Béjaïa -

31°C

Beni Mered -

39°C

Berrouaghia -

38°C

Bir el Djir -

35°C

Birkhadem -

35°C

Boghni -

40°C

Bordj el Kiffan -

35°C

Bordj Ghdir -

36°C

Bordj Zemoura -

38°C

Bou Hanifia el Hamamat -

41°C

Bou Ismaïl -

33°C

Boudouaou -

32°C

Boufarik -

38°C

Bougara -

38°C

Boukadir -

39°C

Boumerdas -

25°C

Brezina -

37°C
C
Charef -

37°C

Chorfa -

42°C

Constantine -

41°C
D
Dar el Beïda -

35°C

Dellys -

28°C

Djidiouia -

38°C

Douera -

35°C

Drean -

40°C
E
Ech Chettia -

39°C

El Abadia -

40°C

El Achir -

37°C

El Amria -

34°C

El Attaf -

40°C

El Eulma -

38°C

El Hadjira -

40°C
E
El Idrissia -

38°C

El Khroub -

41°C

El Kseur -

36°C

El Malah -

32°C

Es Senia -

38°C
H
Hadjout -

35°C

Hammam Bou Hadjar -

38°C

Hennaya -

38°C
K
Kerkera -

39°C

Khemis Miliana -

41°C

Kolea -

35°C

Ksar Chellala -

39°C

Ksar el Boukhari -

39°C
L
Laghouat -

39°C

Lakhdaria -

38°C
M
Mansoûra -

38°C

Mansourah -

39°C

Mazouna -

39°C

Médéa -

38°C

Meftah -

38°C

Mehdia -

40°C

Merouana -

37°C

Meskiana -

39°C

Mila -

42°C

Mouzaïa -

35°C
O
Oran -

34°C

Ouargla -

40°C

Oued el Abtal -

37°C

Oued Rhiou -

38°C

Oued Sly -

41°C

Oum el Bouaghi -

39°C
R
Râs el Oued -

36°C

Reghaïa -

35°C

Remchi -

36°C

Rouissat -

39°C
S
Saïda -

39°C

Salah Bey -

36°C

Sebdou -

39°C

Sfizef -

42°C

Sidi Akkacha -

30°C

Sidi Bel Abbes -

41°C

Sidi Mérouane -

43°C

Sig -

38°C

Sougueur -

38°C

Sour el Ghozlane -

38°C
T
Tamalous -

42°C

Tamanghasset -

37°C

Tazoult-Lambese -

36°C

Thenia -

33°C

Theniet el Had -

38°C

Touggourt -

39°C