Wheretheweatheris.com is a site for you to quickly and easy find the perfect weather conditions matching your preferences.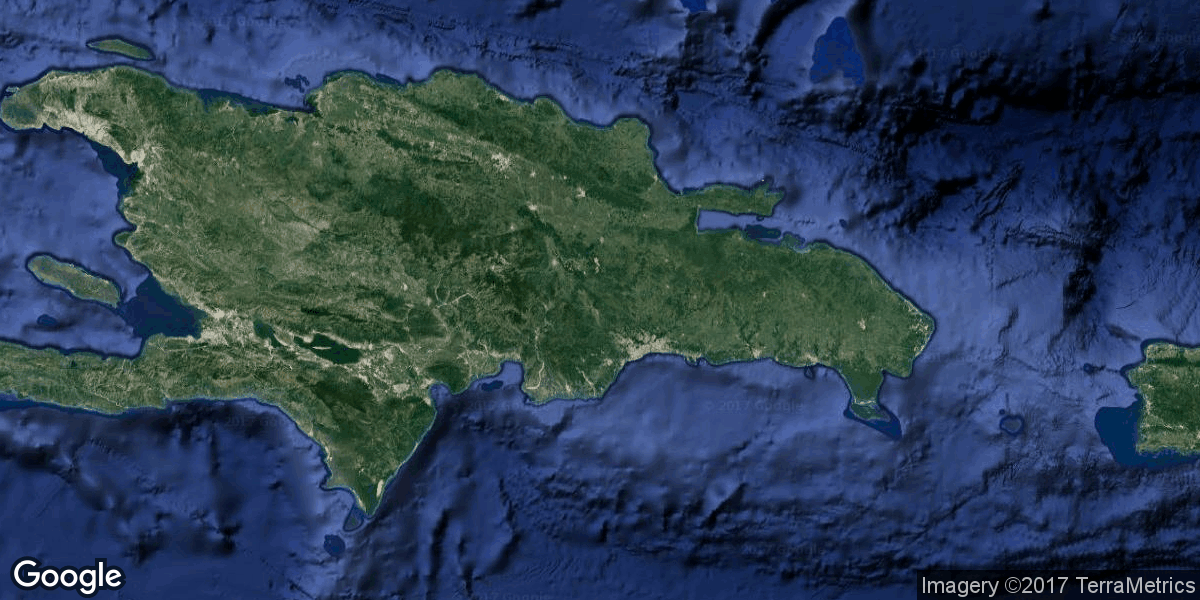 Todays weather condition in Dominican Republic
Facts about Dominican Republic. The total area of the country is 48730.0 square kilometers. And the current population is 9823821. The capital of Dominican Republic is Santo Domingo. Dominican Republic is resided in NA. Current currency of the country is DOP. Spoken languages: Spanish; Castilian (español, castellano).
List of all the tempreatures in this country
A
Altamira -

29°C

Arroyo Salado -

29°C

Azua de Compostela -

33°C
B
Bajos de Haina -

29°C

Baní -

29°C

Bánica -

34°C

Bayaguana -

30°C

Benemérita de San Cristóbal -

29°C

Blanco Abajo -

29°C

Boca de Yuma -

27°C

Bonao -

27°C
C
Cabral -

32°C

Cabrera -

29°C

Cambita Garabitos -

29°C

Castañuelas -

36°C

Castillo -

28°C

Cayetano Germosén -

29°C

Cercado Abajo -

26°C

Cevicos -

29°C

Comendador -

34°C

Concepción de la Vega -

28°C

Constanza -

23°C

Cotuí -

28°C

Cristóbal -

33°C
D
Dajabón -

35°C

Duvergé -

33°C
E
El Factor -

29°C

El Llano -

31°C

El Pino -

33°C

El Puerto -

30°C

El Valle -

28°C

Enriquillo -

29°C

Esperalvillo -

28°C

Esperanza -

33°C
G
Galván -

32°C

Gaspar Hernández -

30°C

Guayabo Dulce -

29°C

Guaymate -

30°C
H
Hato Mayor del Rey -

30°C

Hondo Valle -

24°C
J
Jaibón -

33°C

Jarabacoa -

25°C

Jima Abajo -

27°C

Jimaní -

30°C

Juan Adrián -

25°C

Juan de Herrera -

29°C

Juan Santiago -

26°C

Juancho -

29°C
L
La Descubierta -

31°C

La Romana -

29°C

Laguna Salada -

34°C

Las Guáranas -

28°C

Las Matas de Farfán -

32°C

Las Matas de Santa Cruz -

36°C

Las Terrenas -

29°C

Loma de Cabrera -

32°C

Los Llanos -

28°C

Los Ríos -

33°C

Luperón -

30°C
M
Maizal -

33°C

Mao -

33°C

Mata Palacio -

30°C

Matanzas -

31°C

Miches -

28°C

Moca -

28°C

Monción -

30°C

Monte Plata -

29°C
N
Nagua -

28°C

Neiba -

32°C

Nizao -

28°C
O
Otra Banda -

26°C

Oviedo -

29°C
P
Padre Las Casas -

29°C

Paraíso -

29°C

Partido -

34°C

Paya -

29°C

Pedernales -

32°C

Pedro Sánchez -

28°C

Pepillo Salcedo -

36°C

Peralta -

30°C

Piedra Blanca -

27°C

Pimentel -

29°C

Postrer Río -

33°C

Puerto Plata -

29°C
R
Ramón Santana -

30°C

Restauración -

30°C

Rincón -

27°C

Río San Juan -

29°C
S
Sabana de La Mar -

29°C

Sabana del Puerto -

28°C

Sabana Grande de Boyá -

29°C

Sabana Yegua -

30°C

Sabaneta -

34°C

Salsipuedes -

28°C

Salvaleón de Higüey -

26°C

San Fernando de Monte Cristi -

35°C

San Francisco de Macorís -

29°C

San Gregorio de Nigua -

29°C

San José de Las Matas -

27°C

San Juan de la Maguana -

31°C

San Pedro de Macorís -

29°C

San Rafael del Yuma -

28°C

San Víctor Arriba -

27°C

Sánchez -

29°C

Santa Cruz de Barahona -

28°C

Santa Cruz de El Seibo -

31°C

Santiago de los Caballeros -

30°C

Santo Domingo -

30°C

Sosúa -

31°C
T
Tamayo -

33°C

Tamboril -

28°C

Tenares -

29°C
V
Vallejuelo -

29°C

Veragua Arriba -

29°C

Vicente Noble -

33°C

Villa Altagracia -

28°C

Villa Bisonó -

32°C

Villa González -

31°C

Villa Jaragua -

33°C

Villa Riva -

30°C

Villa Tapia -

29°C

Villa Vásquez -

35°C
Y
Yamasá -

28°C

Yayas de Viajama -

32°C