Wheretheweatheris.com is a site for you to quickly and easy find the perfect weather conditions matching your preferences.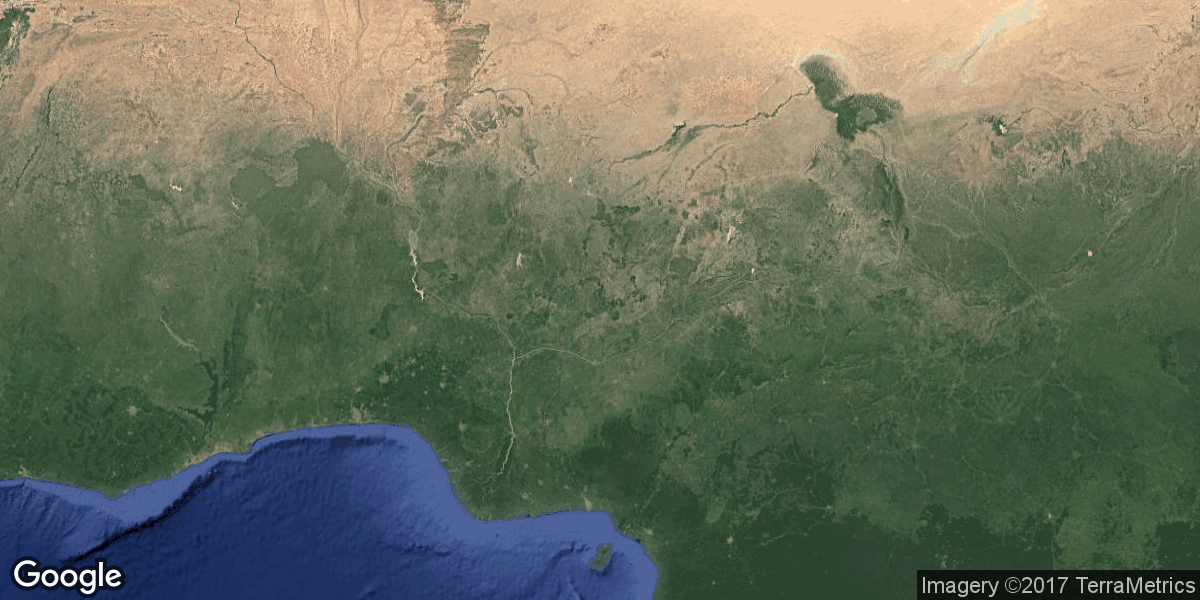 Todays weather condition in Nigeria
Facts about Nigeria. The total area of the country is 923768.0 square kilometers. And the current population is 154000000. The capital of Nigeria is Abuja. Nigeria is resided in AF. Current currency of the country is NGN. Spoken languages: English (English), Hausa (Hausa, هَوُسَ), Yoruba (Yorùbá), Igbo (Asụsụ Igbo), Fula; Fulah; Pulaar; Pular (Fulfulde, Pulaar, Pular).
List of all the tempreatures in this country
A
Aba -

29°C

Abakaliki -

29°C

Abeokuta -

30°C

Abuja -

23°C

Akure -

27°C

Argungu -

30°C

Asaba -

29°C

Awka -

29°C

Azare -

28°C
B
Babana -

29°C

Badagry -

27°C

Bama -

29°C

Bauchi -

23°C

Benin City -

29°C

Birnin Kebbi -

30°C

Birnin Kudu -

26°C

Biu -

26°C

Bugana -

28°C
D
Damaturu -

29°C

Dambarta -

28°C

Damboa -

29°C

Darazo -

26°C

Daura -

28°C

Dikwa -

29°C

Dutse -

27°C

Dutsin Ma -

25°C
E
Ebute Ikorodu -

28°C

Enugu -

27°C
G
Garko -

26°C

Gashua -

31°C

Gaya -

28°C

Geidam -

31°C

Gombe -

27°C

Gumel -

29°C

Gummi -

29°C

Gusau -

24°C

Gwadabawa -

31°C

Gwaram -

26°C
I
Ibadan -

28°C

Illela -

29°C

Ilorin -

30°C
J
Jalingo -

26°C

Jega -

30°C

Jos -

19°C
K
Kaduna -

23°C

Kafachan -

21°C

Kaiama -

29°C

Kamba -

30°C

Kano -

27°C

Kari -

26°C

Katsina -

27°C

Kaura Namoda -

27°C

Keffi -

24°C

Kontagora -

26°C

Kumo -

27°C

Kura -

26°C

Kwali -

25°C
L
Lafia -

25°C

Lagos -

28°C

Lere -

21°C

Little Gombi -

27°C

Lokoja -

29°C
M
Madagali -

26°C

Maiduguri -

30°C

Makurdi -

28°C

Mekkaw -

29°C

Minna -

25°C

Moriki -

29°C

Mubi -

27°C
N
Nafada -

27°C

Nassarawa -

25°C

Nguru -

30°C
O
Onitsha -

29°C

Owerri -

29°C

Oyo -

28°C
P
Pindiga -

24°C

Port Harcourt -

29°C

Potiskum -

28°C
S
Sagamu -

29°C

Sofo-Birnin-Gwari -

23°C

Sokoto -

30°C
T
Talata Mafara -

28°C

Tambawel -

30°C

Tegina -

24°C
U
Uba -

27°C

Umuahia -

29°C
W
Warri -

29°C

Wurno -

31°C
Y
Yenagoa -

29°C

Yola -

29°C
Z
Zango -

28°C

Zaria -

22°C

Zungeru -

27°C

Zuru -

27°C