Wheretheweatheris.com is a site for you to quickly and easy find the perfect weather conditions matching your preferences.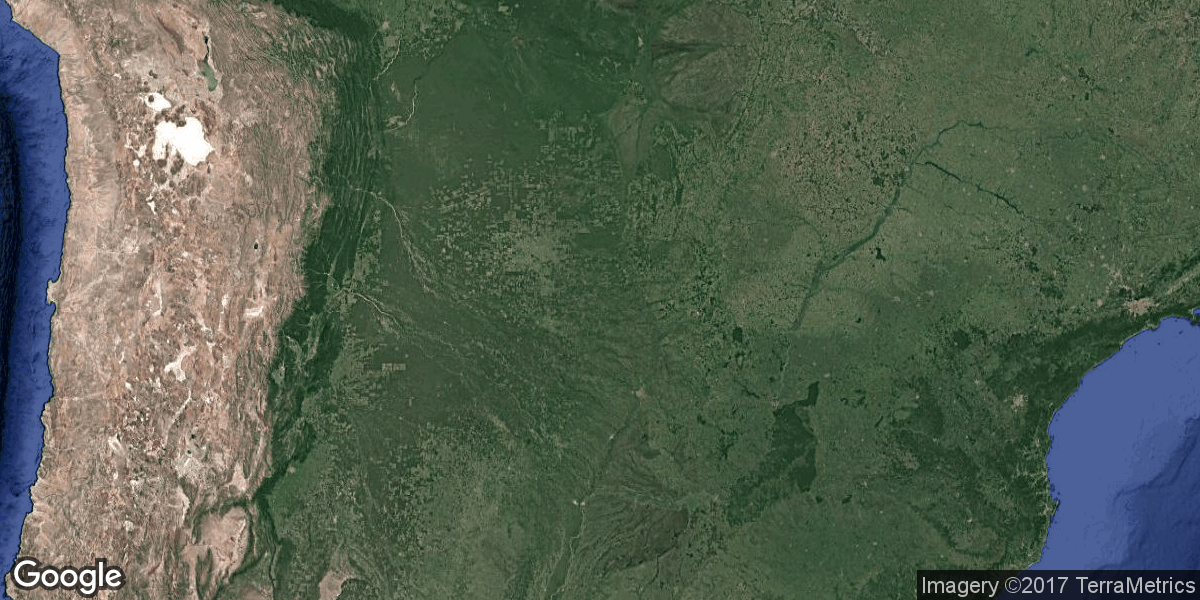 Todays weather condition in Paraguay
Facts about Paraguay. The total area of the country is 406750.0 square kilometers. And the current population is 6375830. The capital of Paraguay is Asunción. Paraguay is resided in SA. Current currency of the country is PYG. Spoken languages: Spanish; Castilian (español, castellano), Guaraní (Avañeẽ).
List of all the tempreatures in this country
A
Abaí -

15°C

Arquitecto Tomás Romero Pereira -

14°C

Asunción -

15°C

Ayolas -

14°C
B
Belén -

17°C

Bella Vista -

17°C

Benjamín Aceval -

14°C

Buena Vista -

14°C
C
Caacupé -

13°C

Caaguazú -

14°C

Capiatá -

15°C

Capiíbary -

15°C

Capitán Bado -

15°C

Capitán Pablo Lagerenza -

21°C

Carapeguá -

13°C

Cerrito -

15°C

Colonia Catuete -

15°C

Colonia General Alfredo Stroessner -

14°C

Colonia Mauricio José Troche -

15°C

Colonia Menno -

16°C

Colonia Neuland -

16°C

Colonia Yguazú -

14°C

Concepción -

17°C

Coronel Oviedo -

15°C
D
Doctor Juan León Mallorquín -

13°C
E
Emboscada -

14°C

Encarnación -

14°C

Eusebio Ayala -

13°C
F
Fernando de la Mora -

15°C

Filadelfia -

15°C
G
General Elizardo Aquino -

16°C

General Higinio Morínigo -

15°C

General José Eduvigis Díaz -

15°C
H
Hohenau -

14°C

Horqueta -

17°C
I
Itacurubí del Rosario -

16°C

Iturbe -

14°C
L
Lambaré -

15°C

Las Palomas -

15°C

Laureles -

14°C
N
Nanawa -

15°C

Natalicio Talavera -

15°C
P
Paraguarí -

14°C

Paso de Patria -

14°C

Piribebuy -

13°C

Presidente Franco -

14°C

Puerto Rosario -

16°C
S
Salto del Guairá -

15°C

San Alberto -

15°C

San Carlos -

18°C

San Isidro de Curuguaty -

15°C

San José -

15°C

San Juan Nepomuceno -

15°C

San Lázaro -

18°C

San Lorenzo -

14°C

San Pedro de Ycuamandiyú -

16°C

San Pedro del Paraná -

14°C

Santa María -

14°C

Santa Rita -

14°C

Santa Rosa -

14°C

Santiago -

15°C
V
Villa Florida -

14°C

Villa Oliva -

15°C

Villarrica -

15°C
Y
Yaguarón -

15°C

Ybycuí -

14°C

Ygatimí -

17°C

Yuty -

14°C